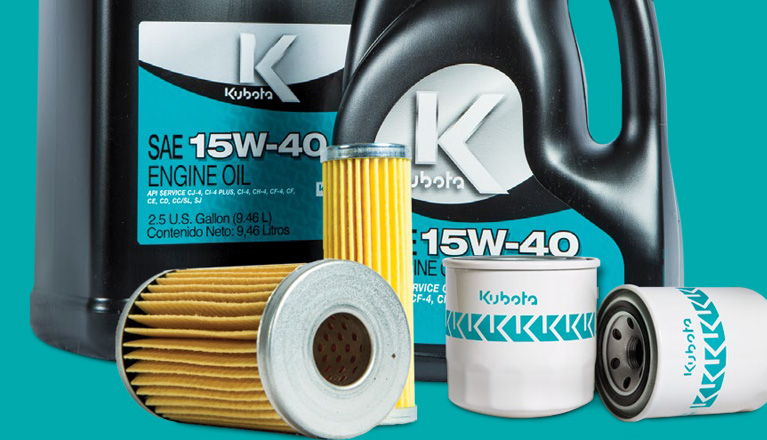 Kubota Genuine Oil and Filters
One look at what goes into Genuine Kubota Oil and Filters to realize that all oil and filters are not created equal. Kubota engine oil and filters are manufactured to the highest standards, and designed expressly for Kubota engines.
Genuine Kubota Oil
Genuine Kubota oil is specifically designed for Kubota industrial engines to maximize the life of your engine by lubricating, cooling and cleaning all at once.
Blended specifically for Kubota engines –" same as factory installed oil
Meets EPA Tier 4 regulations
Improves resistance to engine wear
Excellent Heat Resistance and Stability
Even in harsh conditions and under heavy loads for long hours, high-temperature degradation is minimized and proper viscosity is maintained
Outstanding Cleansing and Dispersion Properties
Cleans off engine-polluting soot and absorbs the particles for fine dispersion
Because the oil is designed to conform to Kubota's strict quality standards, the oil will perform throughout Kubota's full oil change interval
Genuine Kubota Filters
You count on Kubota industrial engines to deliver high performance in severe working conditions. Protect it with genuine Kubota filters.
Highest level of protection for today's high tech fuel systems
Internal corrosion protection
Larger filtration area
Robust construction
Designed specifically for your Kubota engine
Well protected and ready for the job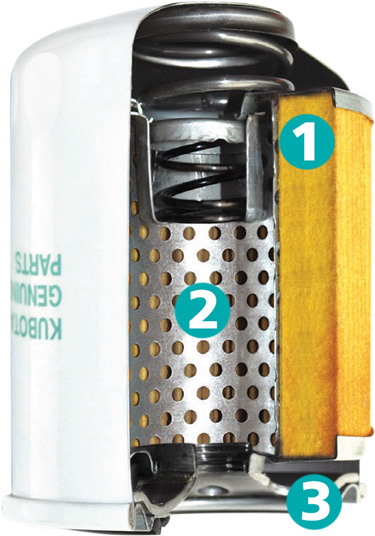 FILTER: High efficiency filtration with synthetic fibers for hot oil reserve.
INTERNAL FILTER: Element has steel caps bonded to the filter with oil resistant adhesive to increase the structural strength of the element.
SEALING GASKET: Sealing gasket compound for severe service and high temperature operation, reduces oil leakage due to hardening.