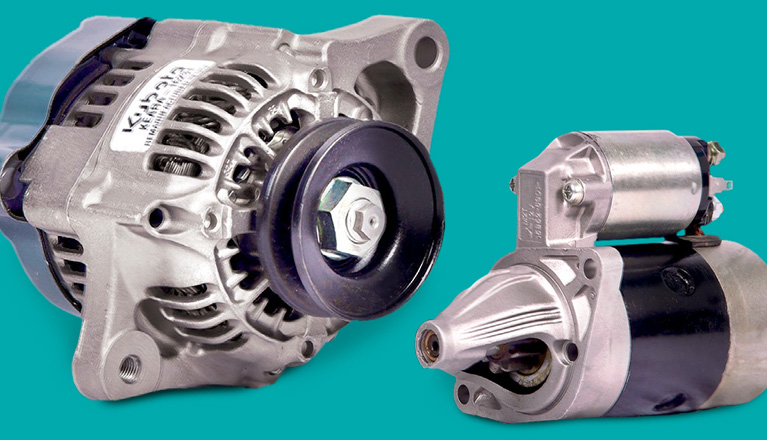 Genuine Remanufactured Kubota Parts
Remanufactured options include alternators, starters, turbochargers and injection pumps.
Easy Core Refund Offer from Kubota with Free Shipping
Purchase a qualifying Alternator, Starter, Turbocharger, Injector or Injection Pump through the KUBOTA Engine America Distributor Network.
For Alternators or Starters, Complete the Alternator-Starter Refund Form.
For Turbochargers, Complete the Turbocharger Refund Form.
For Injectors, Complete the Injector Refund Form.
For Injection Pumps, Complete the Injection Pump Refund Form.
Package your old core following the instructions on the Refund Forms and described in the Complete Instructions.
Return to the KUBOTA Engine America Core Depot using our simple Core Return Process, and the shipping is on us.
Qualifying Alternators
New Part No.
Description
Reman Part No.
Description
Core Refund
16231-64012
ALTERNATOR ASSY 30A
KEARA-16231
REMAN – ALTERNATOR ASSY 30A
$85.00
16241-64012
[VO] ALTERNATOR, ASSY 40A
KEARA-16241
REMAN – ALTERNATOR, ASSY 40A
$85.00
16404-64012
DYNAMO ASSY
KEARA-16404
REMAN – DYNAMO ASSY
$85.00
16427-64012
ASSY ALTERNATOR
KEARA-16427
REMAN – ASSY ALTERNATOR
$85.00
16615-64012
ALTERNATOR
KEARA-16615
REMAN-ALTERNATOR
$85.00
16678-64012
ALTERNATOR 40A W/TAP
KEARA-16678
REMAN – ALTERNATOR 40A W/TAP
$85.00
16771-64010
ALTERNATOR, 45AMP
KEARA-16771
REMAN – ALTERNATOR, 45AMP
$85.00
17356-64010
ALTERNATOR ASSY 45A
KEARA-17356
REMAN – ALTERNATOR ASSY 45A
$85.00
19260-64010
ALTERNATOR ASSY 90A 12V
KEARA-19260
REMAN – ALTERNATOR ASSY 90A 12V
$85.00
19630-64013
[VO] ASSY ALTERNATOR
KEARA-19630
REMAN – ASSY ALTERNATOR
$85.00
1C010-64012
DYNAMO ASSY
KEARA-1C010
REMAN – DYNAMO ASSY
$85.00
1C011-64013
ASSY.ALTERNATOR
KEARA-1C011
REMAN – ASSY.ALTERNATOR
$85.00
1G882-64013
ASSY ALTERNATOR
KEARA-1G882
REMAN – ASSY ALTERNATOR
$85.00
34070-75602
[ZB] ALTERNATOR, ASSY 40A
KEARA-34070
REMAN – ALTERNATOR, ASSY40A
$85.00
5H730-42500
[ZB] ASSY ALTERNATOR 40A
KEARA-34070
REMAN – ALTERNATOR, ASSY 40A
$85.00
3A611-74012
[ZB] ALTERNATOR, ASSY 60A
KEARA-3A611
REMAN – ALTERNATOR, ASSY60A
$85.00
Qualifying Starters
New Part No.
Description
Reman Part No.
Description
Core Refund
15425-63010
STARTER 2.0KW ASSY.
KEARS-15425
REMAN – STARTER 2.0KW ASSY.
$100.00
15461-63010
STARTER
KEARS-15461
REMAN – STARTER
$100.00
15852-63014
STARTER ASSY.
KEARS-15852
REMAN – STARTER ASSY.
$100.00
16225-63014
[ZM] STARTER ASSEMBLY
KEARS-16225
REMAN – STARTER ASSEMBLY
$100.00
16285-63010
STARTER, ASSY
KEARS-16285
REMAN – STARTER, ASSY
$100.00
16611-63010
STARTER
KEARS-16611
REMAN – STARTER
$100.00
16824-63013
ASSY,STARTER
KEARS-16824
REMAN – ASSY,STARTER
$100.00
17298-63010
STARTER ASSY.
KEARS-17298
REMAN – STARTER ASSY.
$100.00
17381-63012
STARTER, ASSY
KEARS-17381
REMAN – STARTER, ASSY
$100.00
17490-63014
ASSY STARTER
KEARS-17490
REMAN – ASSY STARTER
$100.00
19837-63014
[VO] STARTER ASSY
KEARS-19837
REMAN – STARTER ASSY
$100.00
1C010-63013
STARTER ASSY
KEARS-1C010
REMAN-STARTER ASSY
$100.00
1G194-63010
ASSY STARTER
KEARS-1G194
REMAN – ASSY STARTER
$100.00
1K011-63013
STARTER
KEARS-1K011
REMAN – STARTER
$100.00
1K012-63012
ASSY STARTER
KEARS-1K012
REMAN – ASSY STARTER
$100.00
37560-63010
[VO] STARTER
KEARS-37560
REMAN – STARTER
$100.00
67980-31150
ASSY STARTER
KEARS-67980
REMAN – ASSY STARTER
$100.00
Qualifying Turbochargers
New Part No.
Description
Reman Part No.
Description
Core Refund
1E013-17014
ASSYCHARGERJURBO
KEART-1E013
REMAN – ASSY CHARGER,TURBO
$200.00
1E038-17016
ASSY TURBO CHARGER
KEART-1E038
REMAN – ASSY TURBO CHARGER
$200.00
1G544-17013
ASSY TURBO CHARGER
KEART-1G544
REMAN – ASSY TURBO CHARGER
$200.00
1J403-17013
ASSY TURBO CHARGER
KEART-1J403
REMAN -ASSYTURBO CHARGER
$200.00
1J530-17012
ASSY TURBO CHARGER
KEART-1J530
REMAN – ASSY TURBO CHARGER
$200.00
11500-17010
TURBOCHARGER,ASSY
KEART-1J500
REMAN -TURBOCHARGER,ASSY
$200.00
Qualifying Injectors
New Part No.
Description
Reman Part No.
Description
Core Refund
1J500-53050
INJECTOR
KEARI-1J500
REMAN – INJECTOR
$75.00
1J508-53070
INJECTOR
KEARI-1J508
REMAN – INJECTOR
$75.00
1J705-53050
INJECTOR
KEARI-1J705
REMAN – INJECTOR
$75.00
1J707-53070
INJECTOR
KEARI-1J707
REMAN – INJECTOR
$75.00
1J770-53050
INJECTOR
KEARI-1J770
REMAN – INJECTOR
$75.00
1J778-53070
INJECTOR
KEARI-1J778
REMAN – INJECTOR
$75.00
1J801-53052
INJECTOR
KEARI-1J801
REMAN – INJECTOR
$75.00
1J808-53052
INJECTOR
KEARI-1J808
REMAN – INJECTOR
$75.00
Qualifying Injection Pumps
New Part No.
Description
Reman Part No.
Description
Core Refund
16001-51012
ASSY PUMP, INJECTION
KEARP-16001
REMAN – ASSY PUMP, INJECTION
$50.00
16006-51012
ASSY PUMP, INJECTION
KEARP-16006
REMAN – ASSY PUMP, INJECTION
$75.00
16030-51013
ASSY PUMP, INJECTION
KEARP-16030
REMAN – ASSY PUMP, INJECTION
$90.00
16060-51013
ASSY PUMP, INJECTION
KEARP-16060
REMAN – ASSY PUMP, INJECTION
$90.00
1C010-51010
ASSY PUMP, INJECTION
KEARP-1C010
REMAN – ASSY PUMP, INJECTION
$150.00
1G702-51013
ASSY PUMP, INJECTION
KEARP-1G702
REMAN – ASSY PUMP, INJECTION
$90.00
1G762-51012
ASSY PUMP, INJECTION
KEARP-1G762
REMAN – ASSY PUMP, INJECTION
$100.00
1J700-51013
ASSY PUMP, INJECTION
KEARP-1J700
REMAN – ASSY PUMP, INJECTION
$150.00
1K012-51012
ASSY PUMP, INJECTION
KEARP-1K012
REMAN – ASSY PUMP, INJECTION
$150.00
1J574‐50502
ASSY, SUPPLY PUMP
KEARP‐1J574
REMAN – ASSY PUMP, INJECTION
$300.00
1J502-50500
PUMP, ASSY (SUPPLY)
KEARP-1J502
REMAN – ASSY PUMP, INJECTION
$300.00
1J801-50500
ASSY PUMP SUPPLY
KEARP-1J801
REMAN – ASSY PUMP, INJECTION
$300.00
1J500-50500
PUMP ASSY
KEARP-1J500
REMAN – ASSY PUMP, INJECTION
$250.00
1J770-50500
PUMP ASSY
KEARP-1J770
REMAN – ASSY PUMP, INJECTION
$300.00